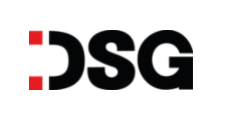 DSG
Men / Clothing
ABOUT DSG #DISGUSTO
DSG #Disgusto is not only a brand, but it's also a message. Born into the fashion world as 'outsider', it adopts an impactful name to underline the need of the stylist to tell the audience his thoughts on actuality: characterized by general malaise, standardization and by a crisis of values. The 'Made in Italy' brand was created from the idea of three young designers in early 2018. It boasts a varied, streetwear-inspired collection which exploits past and current trends through audacious cuts, dare pairings and innovative design.

INSPIRATION
The target of the collection is the so called 'millennial generation' strongly referencing to the social media world: an environment full of inspirational sources and, at the same time, a trap of "massification", which needs a new voice, one not banal, but rather daring. The brand celebrates the free release of our own creativity, answering a call to always "be itself."

OUR ETHOS
DSG #Disgusto is a brand that speaks to younger generations, expressing a feeling of repulsion to some sides of today's society's more ridiculous scenarios through the lens of clubbing or sports. It take a tongue-in-cheek approach to its messaging – the 'smile' is a distinctive sign that points to its humorous side – with a reimagined "D" which aims to draw on the facets of freedom, progress and hope.