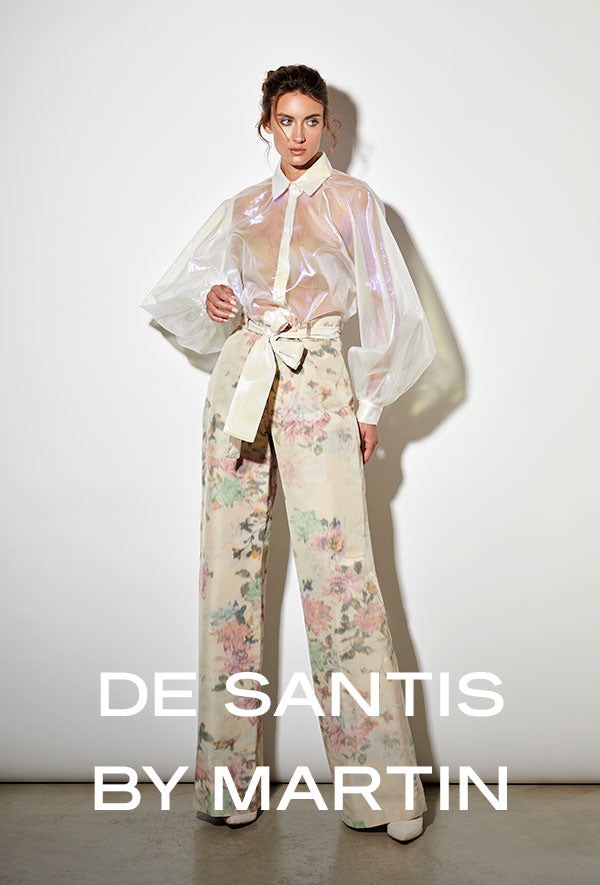 DE SANTIS BY MARTIN
Women / RTW
ABOUT
De Santis by Martin Alvarez
In 2016, Carmine De Santis and Colombian designer Martin Alvarez joined forces to mark a new evolution for the brand. The De Santis by Martin Alvarez line, where Italian inspiration and a Colombian soul come together to create vibrant combinations of styles, colors, and materials was born. The collection continues to offer distinguished, bridal, and original high-end clothing collections. Its ready-to-wear selections combine an eclectic mix of authenticity, modernity, and personality that is reflective of the brand's cultural origins and passions.

INSPIRATION
From its original and unique furs to its men's and women's wear that range from classically elegant formal wear to tailor-made leisurewear, for decades the innovative fashion house has continued to evolve and reinvent itself while remaining true to its Italian roots. It offers luxury items renowned for the quality of the textiles and the elegance and refinement of their construction.

Founded in 1961 by Aniello De Santis, his eponymous company continues its long-standing family tradition for Italian high fashion, thanks to the craftsmanship and tailoring skills that have characterized the maison's journey for over 60 years. Today, the brand is represented by Aniello De Santis' sons, Carmine and Valentino.

OUR ETHOS
In 1980, the company established its atelier headquarters in the town of Pontecagnano, in the prestigious province of Salerno, Italy, where generations of highly skilled artisans gathered and thrived since the beginning of the century. The result is a dynamic brand characterized by a commitment to craftsmanship and the finest manufacturing process.

Starting with carefully selected raw materials and respecting the most genuine tradition of Italian haute couture, each garment is made in Italy by skilled workers incorporating proven techniques and using the finest fabrics in order to offer superior quality designs. A closer look of the De Santis collection is like an intimate journey into Italy's rich, bespoke tradition.